MAXUS rockets
Maxus (SSC)
The MAXUS programme, which started in 1989, is the fruit of a collaboration between SSC (Sweden) and DASA, ex-MBB/ERNO (Germany). It is a development of the microgravity experiments programmes MASER and TEXUS, carried out by the two companies. The MAXUS payload weighs approximately 720 kg, divided into six to eight independent modules, and the duration of nominal microgravity reaches 12 minutes and 40 seconds.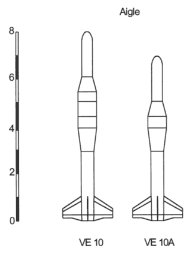 The vehicle used for these experiments measures 15.5 m high and weighs 12.3 t at takeoff; it is the largest sounding rocket successfully launched from Western Europe. This rocket is propelled by a Thiokol Castor 4B motor, 1 m in diameter, which delivers an average 450 kN thrust during 63 seconds. This version of Castor 4 is equipped with a swiveling nozzle which allows the rocket piloting.
The first flight failed in May 1991, but the payload was recovered after culminating at 154 km of altitude. It was successfully launched again the following year, for the MAXUS-1B mission. The second payload was launched only in 1995, third in 1998.


---
MAXUS program launches