Skua and Petrel sounding rockets


Skua 1, meteorological rocket
In 1959, the Meteorological Office was authorized to create a High Altitude Research Unit with mission of carrying out atmospheric studies up to 80 km of altitude. The small meteorological Skua solid-rocket was created by Bristol Aerojet Ltd with the collaboration of the RPE of Wescott to allow this kind of investigation at lower cost. It was a 2.24 m length rocket, 12.7 cm in diameter, weighing 36.7 kg (57.6 kg with the booster rocket), launched simply from a 5 m length tube. The Chick booster delivered 20 kN during 0.2 sec, was jettisoned at about 20 m of altitude and recovered by parachute. The Bantam second stage burned axially (cigarette type) about thirty seconds and could reach approximately 70 km of altitude with a 5 kg payload : a radar-reflecting parachute allowing winds measurements and a probe for temperature measurements.
The first flight occured in 1962 from South Uist in the Hebrides Archipelago. In this version, more than 900 Skua rockets were used in six countries and from eleven different sites.
Skua rocket and its launching tube
Skua 2 to 4
When the BNSCR program required the use of sounding rockets at low cost, being able to be manufactured and launched in series, an instrumented version of Skua was created. Skua 2 was similar to Skua 1, but slightly longer (2.42 m) to place the scientific payload and the telemetry package, and equipped with an improved engine enabling it to reach 100 km of altitude with a 5 kg payload. More than fifty Skua 2 were fired between 1967 and 1972 as part of the British national program.
The last version of the series was Skua 4, appeared in 1972. It weighed 83.3 kg and could send a 7,5 kg payload to 140 km of altitude.
Between Skua (13 cm diameter) and Skylark (44 cm diameter), there was place for an intermediate vehicle which was christened Petrel.
Petrel 1
Built by Bristol Aerojet as well, Petrel was a solid-propellant rocket, boosted at takeoff by three Chick rockets. The sustainer, Lapwing, provided 4.5 kN during approximately 30 seconds. In order to reduce the production costs, Lapwing used, like Bantam, an axial combustion technique. Moreover, Petrel was launched from a 10 m length tube and the boosters were recoverable and refillable.
Petrel was 3.34 m long, 19 cm in diameter, and capable of sending a 18-25 kg payload to 140-115 km altitude. It was launched for the first time on June 8, 1967 from South Uist.
Petrel 2
To improve the performances, a Petrel 2 variant was brought into service in 1977. It used four Chick boosters at takeoff and a lengthened Lapwing motor which burned during 40 seconds. Thus, it could send 18 kg to 175 km altitude.
A total of 234 Petrels sounding rockets were launched until 1982 from various sites: South Uist, Kiruna, Andoya and El Arenosillo in Europe, Thumba in India, Sonmiani in Pakistan and Greenland. Petrel 2 was also used as a target-drone from Woomera.
Tables
a/ Skua launches on behalf of the Bristish national program
b/ Petrel launches on behalf of the Bristish national program
c/ Skua launches on behalf of foreign organizations
Note: These listings do not include meteorological (no instrumented) Skua launches.
---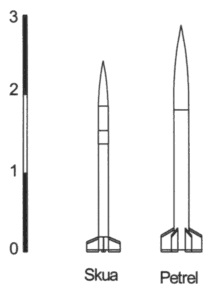 Scale in meters

a/ Skua launches on behalf of the British national program
| Date | Site | Vehicle | Mission | Results |
| --- | --- | --- | --- | --- |
| 08 Jul 1967 | SUI | Skua Su1H | Aeronomy | S (73 km) |
| 09 Jul 1967 | SUI | Skua Su2H | Aeronomy | S (73 km) |
| 21 Jun 1968 | SUI | Skua Su3H | Ionosphere (ions) | VF |
| 24 Jun 1968 | SUI | Skua Su4H | Ionosphere (ions) | S (100 km) |
| 02 Jul 1968 | SUI | Skua Su5H | Ionosphere (ions) | PS |
| 08 Jul 1968 | SUI | Skua Su6H | Ionosphere (ions) | S (100 km) |
| 23 Nov 1968 | SUI | Skua Su7H | Ionosphere (ions) | PS |
| 05 Dec 1968 | SUI | Skua Su7aH | Ionosphere (ions) | PS |
| 29 Mar 1969 | SUI | Skua Su8H | Ionosphere (electrons) | PS (88 km) |
| 07 Aug 1969 | SUI | Skua Su9H | Ionosphere (electrons) | S (94 km) |
| 08 Nov 1969 | SUI | Skua Su10H | Ionosphere (electrons) | PS |
| 16 Nov 1969 | SUI | Skua Su11H | Ionosphere (electrons) | PS |
| 05 Dec 1969 | SUI | Skua Su12H | Ionosphere (electrons) | S |
| 12 Dec 1969 | SUI | Skua Su24H | D layer | PS (79 km) |
| 16 Dec 1969 | SUI | Skua Su25H | D layer | S (89 km) |
| 09 Jan 1970 | SUI | Skua Su26H | D layer (electrons) | S (82 km) |
| 18 Feb 1970 | (IND) | Skua Su13T/C | D layer (ions) | S (92 km) |
| 12 Jan 1970 | SUI | Skua Su26H | D layer | S (85 km) |
| 11 Apr 1970 | SUI | Skua Su27H | D layer | S |
| 11 Apr 1970 | SUI | Skua Su28H | D layer | S |
| 14 Apr 1970 | SUI | Skua Su16H | F layer (ions) | S (92 km) |
| 14 Apr 1970 | SUI | Skua Su17H | D layer (ions) | S (92 km) |
| 15 Apr 1970 | (IND) | Skua Su15T/C | D layer (ions) | SF (93 km) |
| 16 Apr 1970 | (IND) | Skua Su14T/C | D layer (ions) | S (91 km) |
| 17 Apr 1970 | SUI | Skua Su18H | D layer (ions) | S (95 km) |
| 24 Jun 1970 | SUI | Skua Su23H | D layer | S |
| 01 Jul 1970 | SUI | Skua Su29H | Ionosphere | S |
| 08 Jan 1971 | KIR | Skua SK83/1 | Aeronomy | E |
| 15 Jan 1971 | KIR | Skua SK83/2 | Aeronomy | S |
| 17 Jan 1971 | KIR | Skua SK83/3 | Aeronomy | E |
| 19 Jan 1971 | KIR | Skua SK83/4 | Aeronomy | S |
| 21 Jan 1971 | KIR | Skua SK83/5 | Aeronomy | S |
| 23 Jan 1971 | KIR | Skua SK83/6 | Aeronomy | PS |
| 25 Jan 1971 | KIR | Skua SK83/7 | Aeronomy | S |
| 27 Jan 1971 | KIR | Skua SK83/8 | Aeronomy | PS |
| 29 Jan 1971 | KIR | Skua SK83/9 | Aeronomy | S |
| 31 Jan 1971 | KIR | Skua SK83/10 | Aeronomy | S |
| 03 Feb 1971 | KIR | Skua SK83/11 | Aeronomy | S |
| 08 Feb 1971 | KIR | Skua SK83/12 | Aeronomy | PS |
| 09 Feb 1971 | KIR | Skua SK83/13 | Aeronomy | S |
| 11 Feb 1971 | KIR | Skua SK83/14 | Aeronomy | S |
| 12 Feb 1971 | KIR | Skua SK83/15 | Aeronomy | PS |
| 01 Jul 1971 | SUI | Skua SK39H | Ionosphere | S |
| 14 Jul 1971 | SUI | Skua SK36H | D layer (electrons) | S |
| 30 Jul 1971 | SUI | Skua SK37H | D layer (electrons) | PS |
| 15 Sep 1971 | SUI | Skua SK38H | D layer (electrons) | S (82 km) |
| 14 Oct 1971 | SUI | Skua SK41H | D layer (electrons) | S (91 km) |
| 19 Nov 1971 | SUI | Skua SK42H | D layer (electrons) | S |
| 05 Jan 1972 | (IND) | Skua SK30T/C | Electric fields | VF (1.7 km) |
| 15 Jan 1972 | SUI | Skua SK43H | Geophysics | S (87 km) |
| 18 Jan 1972 | (IND) | Skua SK31T/C | D layer | VF (1.7 km) |
| 31 Jan 1972 | (IND) | Skua SK32T/C | D layer | S (80 km) |
| 19 Apr 1972 | SUI | Skua SK45H | Geophysics | S (87 km) |
| 17 May 1972 | SUI | Skua SK44H | Geophysics | S (93 km) |
| 12 Oct 1972 | AND | Skua SK19A | D layer | S |
| 23 Oct 1972 | AND | Skua SK20A | D layer | S |
| 29 Oct 1972 | AND | Skua SK21A | D layer | S |
b/ Petrel launches on behalf of the British national program
| Date | Site | Vehicle | Mission | Results |
| --- | --- | --- | --- | --- |
| 01 Jun 1967 | SUI | Petrel P1H | Technology | S |
| 08 Jun 1967 | SUI | Petrel P2H | Technology | S |
| ?? Sep 1967 | SUI | Petrel P3H | Technology | |
| ?? Sep 1967 | SUI | Petrel P4H | Technology | |
| 03 Feb 1968 | SUI | Petrel P5H | Technology/Ionosphere | S (152 km) |
| 29 Feb 1968 | SUI | Petrel P6H | Technology/Ionosphere | S (150 km) |
| 06 Mar 1968 | SUI | Petrel P7H | Technology/Ionosphere | SF (155 km) |
| 06 Mar 1968 | SUI | Petrel P8H | Technology/Ionosphere | PS (139 km) |
| 29 May 1968 | SUI | Petrel P17H | Ionosphere | SF |
| 01 Jun 1968 | SUI | Petrel P18H | Ionosphere | PS (131 km) |
| 01 Aug 1968 | SUI | Petrel P13H | Ionosphere/Astronomy | SF (131 km) |
| 11 Nov 1968 | SUI | Petrel P15H | Ionosphere | PS (142 km) |
| 30 Nov 1968 | SUI | Petrel P19H | Ionosphere | S |
| 05 Dec 1968 | SUI | Petrel P22H | Ionosphere | PS |
| 09 Dec 1968 | SUI | Petrel P9H | Aeronomy | PS (118 km) |
| 03 Feb 1969 | KIR | Petrel P24K | Ionosphere | SF (157 km) |
| 11 Feb 1969 | KIR | Petrel P23K | Ionosphere | PS (157 km) |
| 14 Feb 1969 | KIR | Petrel P27K | Ionosphere | S (149 km) |
| 15 Feb 1969 | KIR | Petrel P28K | Ionosphere | S (153 km) |
| 17 Mar 1969 | KIR | Petrel P25K | Ionosphere | SF (148 km) |
| 17 Mar 1969 | KIR | Petrel P29K | Ionosphere | S (151 km) |
| 18 Mar 1969 | KIR | Petrel P11K | Ionosphere | S (170 km) |
| 29 Mar 1969 | KIR | Petrel P26K | Ionosphere | S (150 km) |
| 18 Jun 1969 | SUI | Petrel P34H | Ionosphere/Astronomy | SF (137 km) |
| 19 Jun 1969 | SUI | Petrel P35H | Ionosphere/Astronomy | S (136 km) |
| 28 Jul 1969 | SUI | Petrel P40H | Ionosphere | PS (121 km) |
| 02 Aug 1969 | SUI | Petrel P12H | Ionosphere | PS (126 km) |
| 15 Sep 1969 | SUI | Petrel P58H | Ionosphere | SF (141 km) |
| 30 Sep 1969 | SUI | Petrel P46H | Ionosphere | S |
| 01 Oct 1969 | SUI | Petrel P51H | Ionosphere | S |
| 02 Oct 1969 | SUI | Petrel P52H | Ionosphere | SF |
| 10 Oct 1969 | SUI | Petrel P20H | Ionosphere | S (130 km) |
| 11 Oct 1969 | SUI | Petrel P38H | Electric fields | S |
| 14 Oct 1969 | SUI | Petrel P14H | Ionosphere | S |
| 17 Oct 1969 | SUI | Petrel P16H | Ionosphere | PS |
| 21 Feb 1970 | SUI | Petrel P53H | Ionosphere | S (148 km) |
| 21 Apr 1970 | SUI | Petrel P36H | Ionosphere | S (139 km) |
| 27 Jun 1970 | SUI | Petrel P39H | Ionosphere | S (126 km) |
| 08 Sep 1970 | SUI | Petrel P30H | Ionosphere | S (147 km) |
| 08 Sep 1970 | SUI | Petrel P32H | Ionosphere | S (147 km) |
| 11 Sep 1970 | SUI | Petrel P31H | Ionosphere | S (147 km) |
| 18 Sep 1970 | SUI | Petrel P10H | Aeronomy | S (144 km) |
| 12 Nov 1970 | SUI | Petrel P21H | Aeronomy | S (85 km) |
| 16 Nov 1970 | SUI | Petrel P37H | Ionosphere | S |
| 19 Nov 1970 | SUI | Petrel P47H | Electromagnetic fields | S (129 km) |
| 02 Dec 1970 | SUI | Petrel P81H | Ionosphere | SF (38 km) |
| 12 Mar 1971 | KIR | Petrel P69K | Auroral studies | PS (150 km) |
| 12 Mar 1971 | KIR | Petrel P92K | Auroral studies | VF, explosion au sol |
| 05 Apr 1971 | KIR | Petrel P68K | Ionosphere | S (134 km) |
| 14 Apr 1971 | KIR | Petrel P61K | Ionosphere | S (154 km) |
| 15 Apr 1971 | KIR | Petrel P66K | Aeronomy/Ionosphere | S (131 km) |
| 16 Apr 1971 | KIR | Petrel P62K | Ionosphere | SF (138 km) |
| 21 Apr 1971 | KIR | Petrel P64K | Ionosphere | S (143 km) |
| 21 Apr 1971 | KIR | Petrel P67K | Aeronomy/Ionosphere | S (128 km) |
| 21 Apr 1971 | KIR | Petrel P63K | Electric fields | PS (164 km) |
| 24 Apr 1971 | KIR | Petrel P54K | Electric fields | PS (162 km) |
| 01 May 1971 | KIR | Petrel P65K | Electric fields | PS (146 km) |
| 25 Jun 1971 | SUI | Petrel P48H | Ionosphere | S |
| 26 Jun 1971 | SUI | Petrel P120H | Ionosphere/Astronomy | S (138 km) |
| 28 Jun 1971 | SUI | Petrel P109H | Ionosphere/Astronomy | S (143 km) |
| 14 Jul 1971 | SUI | Petrel P79H | Ionosphere | S (143 km) |
| 14 Jul 1971 | SUI | Petrel P93H | Ionosphere | S (142 km) |
| 13 Sep 1971 | SUI | Petrel P74H | Ionosphere | SF (18 km) |
| 22 Sep 1971 | SUI | Petrel P121H | Ionosphere/Astronomy | S (137 km) |
| 24 Sep 1971 | SUI | Petrel P122H | Ionosphere/Astronomy | S (125 km) |
| 28 Sep 1971 | SUI | Petrel P49H | Aeronomy | S (142 km) |
| 17 Nov 1971 | (PAK) | Petrel P123S/C | Aeronomy | S (130 km) |
| 25 Nov 1971 | (PAK) | Petrel P124S/C | Aeronomy | S |
| 01 Dec 1971 | SUI | Petrel P80H | Ionosphere | S |
| 03 Dec 1971 | SUI | Petrel P82H | Ionosphere | S |
| 06 Dec 1971 | SUI | Petrel P83H | Ionosphere | SF |
| 07 Dec 1971 | SUI | Petrel P84H | Ionosphere | PS |
| 10 Dec 1971 | SUI | Petrel P119H | Ionosphere | S |
| 04 Jan 1972 | (IND) | Petrel P78T/C | Ba/Sr clouds | S (130 km) |
| 06 Jan 1972 | (IND) | Petrel P95T/C | Ba/Sr clouds | S (169 km) |
| 07 Jan 1972 | (IND) | Petrel P77T/C | Ba/Sr clouds | S (170 km) |
| 14 Jan 1972 | (IND) | Petrel P89T/C | Ionosphere | S (128 km) |
| 15 Jan 1972 | SUI | Petrel P85H | Ionosphere/Astronomy | S (147 km) |
| 18 Jan 1972 | (IND) | Petrel P88T/C | Ionosphere | VF (23 km) |
| 22 Jan 1972 | SUI | Petrel P107H | Ionosphere/Astronomy | S (142 km) |
| 02 Feb 1972 | (IND) | Petrel P110T/C | Electrojet | S (134 km) |
| 05 Feb 1972 | (IND) | Petrel P59T/C | Electrojet | S |
| 13 Feb 1972 | (IND) | Petrel P60T/C | Electrojet | S (132 km) |
| 17 Feb 1972 | SUI | Petrel P111H | Ionosphere | S (134 km) |
| 18 Feb 1972 | SUI | Petrel P117H | Ionosphere | SF |
| 29 Aug 1972 | SUI | Petrel P118H | Ionosphere | SF |
| 29 Aug 1972 | SUI | Petrel P130H | Astronomy | S (135 km) |
| 30 Aug 1972 | SUI | Petrel P75H | Ionosphere/Astronomy | S (118 km) |
| 31 Aug 1972 | SUI | Petrel P108H | Ionosphere/Astronomy | S (146 km) |
| 31 Aug 1972 | SUI | Petrel P76H | Ionosphere/Astronomy | VF (26 km) |
| 05 Oct 1972 | AND | Petrel P127A | Auroral studies | PS |
| 07 Oct 1972 | AND | Petrel P42A | Auroral studies | PS |
| 10 Oct 1972 | AND | Petrel P55A | Auroral studies | PS |
| 21 Oct 1972 | AND | Petrel P126A | Auroral studies | PS |
| 23 Oct 1972 | AND | Petrel P125A | Auroral studies | SF |
| 03 Nov 1972 | AND | Petrel P129A | Auroral studies | S |
| 08 Nov 1972 | AND | Petrel P41A | Auroral studies | PS |
| 19 Feb 1973 | SUI | Petrel P116H | Ionosphere | PS (124 km) |
| 22 Feb 1973 | SUI | Petrel P114H | Ionosphere | PS (126 km) |
| 23 Feb 1973 | SUI | Petrel P113H | Ionosphere | PS |
| 20 Mar 1973 | SUI | Petrel P43H | Ionosphere | PS (129 km) |
| 31 Mar 1973 | SUI | Petrel P44H | Ionosphere | PS (126 km) |
| 03 Apr 1973 | SUI | Petrel P131H | Ionosphere/Astronomy | S (131 km) |
| 03 Apr 1973 | SUI | Petrel P133H | Ionosphere/Astronomy | S (133 km) |
| 03 Apr 1973 | SUI | Petrel P105H | Ionosphere/Astronomy | S (137 km) |
| 03 Apr 1973 | SUI | Petrel P132H | Ionosphere/Astronomy | S (140 km) |
| 03 Apr 1973 | SUI | Petrel P134H | Ionosphere/Astronomy | S (143 km) |
| 03 Apr 1973 | SUI | Petrel P104H | Ionosphere/Astronomy | S (136 km) |
| 03 Apr 1973 | SUI | Petrel P135H | Ionosphere/Astronomy | SF (134 km) |
| 19 May 1973 | SUI | Petrel P56H | Astronomy | SF (137 km) |
| 29 Jun 1973 | SUI | Petrel P162H | Ionosphere | PS |
| 23 Jul 1973 | SUI | Petrel P45H | Astronomy | S (143 km) |
| 27 Jul 1973 | SUI | Petrel P163H | Ionosphere | S (135 km) |
| 03 Sep 1973 | SUI | Petrel P97H | Photometry | S (135 km) |
| 03 Sep 1973 | SUI | Petrel P98H | Photometry | S (143 km) |
| 06 Sep 1973 | SUI | Petrel P165H | Ionosphere | PS (131 km) |
| 10 Sep 1973 | SUI | Petrel P102H | Aeronomy | S (170 km) |
| 10 Sep 1973 | SUI | Petrel P103H | Aeronomy | S (168 km) |
| 15 Sep 1973 | SUI | Petrel P106H | Ionosphere | S (124 km) |
| 14 Oct 1973 | AND | Petrel P100A | Aeronomy | S (166 km) |
| 16 Oct 1973 | AND | Petrel P141A | Auroral studies | S (148 km) |
| 17 Oct 1973 | AND | Petrel P101A | Aeronomy | SF (136 km) |
| 30 Oct 1973 | AND | Petrel P147A | Auroral studies | SF (70 km) |
| 30 Oct 1973 | AND | Petrel P142A | Auroral studies | S (131 km) |
| 30 Oct 1973 | AND | Petrel P143A | Auroral studies | S (134 km) |
| 16 Nov 1973 | AND | Petrel P150A | Electric fields | S (144 km) |
| 16 Nov 1973 | AND | Petrel P145A | Aeronomy | S (175 km) |
| 17 Nov 1973 | AND | Petrel P149A | Ionosphere | SF (137 km) |
| 17 Nov 1973 | AND | Petrel P146A | Aeronomy | S (175 km) |
| 17 Nov 1973 | AND | Petrel P148A | Ionosphere | SF (132 km) |
| 02 Dec 1973 | AND | Petrel P181A | Electric fields | S |
| 02 Dec 1973 | AND | Petrel P96A | Electric fields | S |
| 06 Dec 1973 | AND | Petrel P71A | Ionosphere | S |
| 01 Apr 1974 | SUI | Petrel P178H | Ionosphere | S (134 km) |
| 01 Apr 1974 | SUI | Petrel P174H | Ionosphere | S (142 km) |
| 03 Apr 1974 | SUI | Petrel P173H | Ionosphere | PS (132 km) |
| 03 Apr 1974 | SUI | Petrel P177H | Ionosphere | S (133 km) |
| 30 Apr 1974 | SUI | Petrel P72H | Ionosphere | PS (126 km) |
| 03 Sep 1974 | SUI | Petrel P99H | Ionosphere | S (137 km) |
| 06 Sep 1974 | SUI | Petrel P94H | Ionosphere | S (173 km) |
| 11 Sep 1974 | SUI | Petrel P90H | Ionosphere | SF (135 km) |
| 24 Sep 1974 | SUI | Petrel P50H | Ionosphere | S (133 km) |
| 27 Sep 1974 | SUI | Petrel P57H | Ionosphere | S (136 km) |
| 28 Sep 1974 | SUI | Petrel P161H | Ionosphere | S (123 km) |
| 29 Nov 1974 | SUI | Petrel P175H | Ionosphere | PS (135 km) |
| 29 Nov 1974 | SUI | Petrel P179H | Ionosphere | S (132 km) |
| 02 Dec 1974 | SUI | Petrel P91H | Ionosphere | S (130 km) |
| 07 Dec 1974 | SUI | Petrel P183H | Ionosphere | S (132 km) |
| 07 Dec 1974 | SUI | Petrel P176H | Ionosphere | S (137 km) |
| 07 Dec 1974 | SUI | Petrel P128H | Ionosphere | S (135 km) |
| 17 Dec 1974 | #GRN | Petrel P86G | Aeronomy | S (175 km) |
| 17 Dec 1974 | #GRN | Petrel P87G | Aeronomy | S (175 km) |
| 18 Dec 1974 | #GRN | Petrel P166G | Aeronomy | S (175 km) |
| 18 Dec 1974 | #GRN | Petrel P167G | Aeronomy | S (175 km) |
| 09 Feb 1975 | (IND) | Petrel P154T | Aeronomy | S (165 km) |
| 09 Feb 1975 | (IND) | Petrel P158T | Electric fields | S (140 km) |
| 09 Feb 1975 | (IND) | Petrel P155T | Aeronomy | S (165 km) |
| 09 Feb 1975 | (IND) | Petrel P159T | Electric fields | S (140 km) |
| 19 Feb 1975 | (IND) | Petrel P156T | Aeronomy | S (165 km) |
| 19 Feb 1975 | (IND) | Petrel P157T | Aeronomy | S (165 km) |
| 15 Mar 1975 | (IND) | Petrel P70T | Ionosphere | S |
| 15 Mar 1975 | (IND) | Petrel P184T | Ionosphere | S |
| 19 Mar 1975 | (IND) | Petrel P185T | Ionosphere | S (107 km) |
| 03 May 1975 | SUI | Petrel P164H | Ionosphere | S (112 km) |
| 08 Sep 1975 | SUI | Petrel P136H | Ionosphere | S (141 km) |
| 09 Sep 1975 | SUI | Petrel P153H | Ionosphere | S (129 km) |
| 09 Sep 1975 | SUI | Petrel P168H | Ionosphere | S (130 km) |
| 28 Nov 1975 | SUI | Petrel P152H | Ionosphere | S (129 km) |
| 28 Nov 1975 | SUI | Petrel P151H | Ionosphere | S (140 km) |
| 06 May 1976 | SUI | Petrel P115H | Ionosphere | S (136 km) |
| 06 May 1976 | SUI | Petrel P186H | Ionosphere | S (150 km) |
| 04 Jun 1976 | SUI | Petrel P144H | Ionosphere | S (133 km) |
| 04 Jun 1976 | SUI | Petrel P187H | Ionosphere | PS (144 km) |
| 05 Jul 1976 | SUI | Petrel P188H | Ionosphere | SF (140 km) |
| 07 Feb 1977 | SUI | Petrel P192H | Ionosphere | S (146 km) |
| 07 Feb 1977 | SUI | Petrel MOP1 | Aeronomy | PS (127 km) |
| 11 Feb 1977 | SUI | Petrel P189H | Ionosphere | S (142 km) |
| 07 Mar 1977 | SUI | Petrel P? | First Petrel II | - |
| 27 Jun 1977 | SUI | Petrel P190H | Ionosphere | S (124 km) |
| 27 Jun 1977 | SUI | Petrel P196H | Ionosphere | S (130 km) |
| 16 Oct 1977 | SUI | Petrel P207H | Aeronomy | S (207 km) |
| 02 Feb 1978 | SUI | Petrel P199H | Ionosphere | S (140 km) |
| 02 Feb 1978 | SUI | Petrel P203H | Ionosphere | S (112 km) |
| 02 Feb 1978 | SUI | Petrel P112H | Ionosphere | S (135 km) |
| 06 Feb 1978 | SUI | Petrel P200H | Ionosphere | S (136 km) |
| 06 Feb 1978 | SUI | Petrel P202H | Ionosphere | SF (125 km) |
| 07 Feb 1978 | SUI | Petrel P204H | Ionosphere | S (108 km) |
| 07 Feb 1978 | SUI | Petrel P198H | Ionosphere | S (139 km) |
| 13 Feb 1978 | SUI | Petrel MOP2 | Aeronomy | PS |
| 13 Feb 1978 | SUI | Petrel MOP4 | Aeronomy | SF |
| 30 Jul 1978 | KIR | Petrel P205K | Ionosphere | S (149 km) |
| 12 Aug 1978 | KIR | Petrel P206K | Ionosphere | S (150 km) |
| 25 Jan 1979 | KIR | Petrel P216K | Ionosphere | S (183 km) |
| 27 Jan 1979 | KIR | Petrel P215K | Ionosphere | S (179 km) |
| 28 Mar 1979 | AND | Petrel P208A | Ionosphere | SF (169 km) |
| 20 Jul 1979 | SUI | Petrel P209H | Ionosphere | PS (149 km) |
| 20 Jul 1979 | SUI | Petrel P210H | Ionosphere | S (145 km) |
| 20 Jul 1979 | SUI | Petrel P211H | Ionosphere | S (145 km) |
| 24 Sep 1979 | ARN | Petrel P217E | Ionosphere | VF (30 km) |
| 03 Oct 1979 | ARN | Petrel P218E | Ionosphere | S (145 km) |
| 26 Jul 1980 | KIR | Petrel P223K | Ionosphere | SF (168 km) |
| 11 Nov 1980 | KIR | Petrel P221K | Energy Budget | S (171 km) |
| 16 Nov 1980 | KIR | Petrel P220K | Energy Budget | SF (174 km) |
| 30 Nov 1980 | KIR | Petrel P222K | Energy Budget | S (196 km) |
| 07 Feb 1981 | KIR | Petrel P219K | Energy Budget | S (171 km) |
| 01 Dec 1981 | KIR | Petrel P224K | Energy Budget | S (187 km) |
| 09 Dec 1981 | KIR | Petrel P225K | Energy Budget | EE (188 km) |
| 16 Dec 1981 | KIR | Petrel P226K | Energy Budget | S (187 km) |
| 04 Aug 1982 | KIR | Petrel P235K | Energy Budget | (140 km) |
| 11 Aug 1982 | KIR | Petrel P214K | Energy Budget | (129 km) |
c/ Skua and Petrel launches on behalf of foreign organizations
List under construction (incomplete) - Informations or corrections are welcome
| Date | Site | Vehicle | Mission | Results |
| --- | --- | --- | --- | --- |
| -- Feb 1968 | ARN | 3 x Skua II | Chaff (MPAe) | |
| -- Apr 1968 | ARN | 3 x Skua II | Chaff (MPAe) | |
| -- Nov 1968 | ARN | 11 x Skua II | Chaff (MPAe) | |
| -- Dec 1969 | ARN | 12 x Skua II | Chaff (MPAe) | |
| -- Jan 1970 | ARN | 6 x Skua II | Chaff (MPAe) | |
| -- Feb 1970 | ARN | 40 x Skua II | Chaff (MPAe) | |
| -- Mar 1970 | ARN | 2 x Skua II | Chaff (MPAe) | |
| 19 Mar 1970 | KIR | Skua SSK3/1 | Twilight Probe | (105 km) |
| 19 Mar 1970 | KIR | Skua SSK3/2 | Twilight Probe | (105 km) |
| 19 Mar 1970 | KIR | Skua SSK3/3 | Twilight Probe | (105 km) |
| 19 Mar 1970 | KIR | Skua SSK3/4 | Twilight Probe | (105 km) |
| 19 Mar 1970 | KIR | Skua SSK3/5 | Twilight Probe | (105 km) |
| 09 Aug 1970 | KIR | Petrel S P4 | ? | |
| -- Dec 1970 | ARN | 3 x Skua II | Chaff + (MPAe) | |
| 26 Jan 1971 | KIR | Petrel P40 | Ionosphere (ESRO) | S |
| 22 Mar 1971 | ARN | Skua II | NO release (IASB) | S (63 km) |
| 23 Mar 1971 | ARN | Skua II | NO release (IASB) | S (72 km) |
| 23 Mar 1971 | ARN | Skua II | NO release (IASB) | S (71 km) |
| 24 Mar 1971 | ARN | Skua II | NO release (IASB) | S (69 km) |
| 24 Mar 1971 | ARN | Skua II | NO release (IASB) | S (71 km) |
| 21 May 1971 | ARN | Skua II | TMA release (INTA) | |
| 28 May 1971 | ARN | Skua II | TMA release (INTA) | |
| -- May 1971 | ARN | 2 x Skua II | Chaff (MPAe) | |
| -- Apr 1972 | ARN | 5 x Skua II | Chaff + (MPAe) | |
| -- May 1972 | ARN | 6 x Skua II | Chaff + (MPAe) | |
| -- Jun 1972 | ARN | 4 x Skua II | Chaff (MPAe) | |
| -- Jul 1972 | ARN | 2 x Skua II | Chaff (MPAe) | |
| -- Oct 1972 | ARN | 3 x Skua II | Chaff (MPAe) | |
| -- Jan 1973 | ARN | 9 x Skua II | Chaff (MPAe) | |
| 31 Jan 1973 | ARN | Skua IV | Chaff (MPAe) | |
| -- Mar 1973 | ARN | 3 x Skua II | Chaff (MPAe) | |
| -- Apr 1973 | ARN | 2 x Skua II | Chaff (MPAe) | |
| -- Oct 1973 | ARN | 1 x Skua II | Chaff (MPAe) | |
| -- Nov 1973 | ARN | 1 x Skua II | Chaff (MPAe) | |
| -- Dec 1973 | ARN | 7 x Skua II | Chaff (MPAe) | |
| -- Jan 1974 | ARN | 4 x Skua II | Chaff (MPAe) | |
| -- Jan 1974 | ARN | 4 x Skua IV | Chaff (MPAe) | |
| -- Jan 1975 | ARN | 1 x Skua II | Chaff (MPAe) | |
| -- Jan 1975 | ARN | 1 x Skua IV | Chaff (MPAe) | |
| -- Feb 1975 | ARN | 1 x Skua II | Chaff (MPAe) | |
| -- Jun 1975 | ARN | 2 x Skua II | Chaff (MPAe) | |
| 17 Dec 1975 | ARN | Skua II | Prototype | |
| 02 Jan 1976 | ARN | Skua III | Winter Anomaly, BI | (95 km) |
| 04 Jan 1976 | ARN | Petrel I | Winter Anomaly, BIII | (83 km) |
| 04 Jan 1976 | ARN | Skua III | Winter Anomaly, BI | (103 km) |
| 04 Jan 1976 | ARN | Petrel I | Winter Anomaly, BVI | (135 km) |
| 04 Jan 1976 | ARN | Skua IV | Winter Anomaly, BV | (96 km) |
| 06 Jan 1976 | ARN | Skua II | Winter Anomaly, BI | (97 km) |
| 09 Jan 1976 | ARN | Skua II | Winter Anomaly, BI | (99 km) |
| 12 Jan 1976 | ARN | Skua III | Winter Anomaly, BI | (92 km) |
| 14 Jan 1976 | ARN | Skua III | Winter Anomaly, BI | (91 km) |
| 20 Jan 1976 | ARN | Petrel I | Winter Anomaly, B? | |
| 20 Jan 1976 | ARN | Skua III | Winter Anomaly, BI | (93 km) |
| 21 Jan 1976 | ARN | Petrel I | Winter Anomaly, BIII | (83 km) |
| 21 Jan 1976 | ARN | Skua II | Winter Anomaly, BI | (98 km) |
| 21 Jan 1976 | ARN | Petrel I | Winter Anomaly, BVI | (135 km) |
| 21 Jan 1976 | ARN | Petrel I | Winter Anomaly, BVI | (135 km) |
| 21 Jan 1976 | ARN | Skua IV | Winter Anomaly, BV | (109 km) |
| 22 Jan 1976 | ARN | Skua II | Winter Anomaly, BI | (94 km) |
| 23 Jan 1976 | ARN | Skua II | Winter Anomaly, BI | (104 km) |
| 26 Jan 1976 | ARN | Skua III | Winter Anomaly, BI | (100 km) |
| 28 Jan 1976 | ARN | Skua III | Winter Anomaly, BI | (94 km) |
| 05 Feb 1976 | ARN | Skua II | Winter Anomaly, BI | (104 km) |
| 05 Feb 1976 | ARN | Skua IV | Winter Anomaly, BV | (103 km) |
| 08 Feb 1976 | ARN | Petrel I | Winter Anomaly, B? | |
| 08 Feb 1976 | ARN | Skua II | Winter Anomaly, BI | (100 km) |
| 04 May 1976 | ARN | Skua IV | Winter Anomaly, BV | (102 km) |
| 05 May 1976 | ARN | Skua II | Winter Anomaly, BI | (94 km) |
| 05 May 1976 | ARN | Skua IV | Winter Anomaly, BV | (95 km) |
| 08 May 1976 | ARN | Skua II | Winter Anomaly, BI | (952 km) |
| 08 May 1976 | ARN | Petrel I | Winter Anomaly, BIII | (74 km) |
| 15 May 1976 | ARN | Skua III | Winter Anomaly, BI | (89 km) |
| 15 May 1976 | ARN | Petrel I | Winter Anomaly, BIII | |
| 30 Jul 1978 | KIR | Petrel | MPI-1 | (71 km) |
| 12 Aug 1978 | KIR | Petrel | MPI-2 | (65 km) |
| 11 Nov 1980 | AND | Skua II | Energy Budget E? | |
| 11 Nov 1980 | KIR | Skua II | Energy Budget E7 | (97 km) |
| 16 Nov 1980 | AND | Skua II | Energy Budget E? | |
| 16 Nov 1980 | KIR | Skua II | Energy Budget E7 | (96 km) |
| 28 Nov 1980 | AND | Skua II | Energy Budget E? | |
| 01 Dec 1980 | KIR | Skua II | Energy Budget E7 | (92 km) |
| 09 Dec 1981 | KIR | Skua IV | Energy Budget E8 | (70 km) |
| 09 Dec 1981 | KIR | Skua II | Energy Budget E7 | (95 km) |
| 19 Dec 1981 | ARN | Petrel | FOCCA | S (106 km) |
| 13 Mar 1982 | ARN | Petrel | FOCCA | VF |
Notes: Launch site: AND: Andoya; ARN: El Arenosillo; KIR: Kiruna; SUI: South Uist;
(IND): India; (PAK): Pakistan; #GRN: Greenland
S: success; PS: partial success; SF: system failure; VF: vehicle failure
---